 Attracting and mobilizing
communities with the beauty
of art and the gift of life
Having witnessed the power of organ donation, Lashbrook Marketing and Public Relations was immediately compelled to go above and beyond for London Health Sciences Centre's (LHSC) Multi-Organ Transplant Program. With award-winning experience in healthcare marketing, we leveraged our expertise and our intrinsic passion for the cause to rally a community, raise money and heighten the impact of New Canvas of Life.
In its former two years running, New Canvas of Life was a small event with a minimal budget, narrow online presence and small community of support. This year's event featured an up-close and personal performance by Ron Sexsmith at a larger venue and had a fundraising goal, six times higher than previous years. Envisioning a revamped event with a considerably larger audience and end result, a short timeline to attract and mobilize a large community presented a significant challenge. Lashbrook's strategic and passion-driven marketing plan successfully positioned New Canvas of Life for long-term success.

Building a network of support
With new goals, we took a bold approach that emphasized arts and culture and integrated authentic, powerful storytelling to build an educated, inspired and lasting community, motivated to donate.
By specifically targeting Ron Sexsmith fans, local arts and culture enthusiasts and individuals with a connection to organ donation, we simultaneously branched out and honed in on new target audiences with an interest in the event, in the cause and in giving back to their community.
Visualizing success
A visual identity that created excitement about the event and that drew a clear connection to the cause would paint the scene for an impactful campaign and event success for years to come.
On the backdrop of vibrant and textured oil paint, the calligraphic New Canvas of Life logo brought art to the forefront. Strategically incorporating the title sponsor and cause into the design, we created a logo that embodied the purpose and unique appeal of the event. Storytelling
Drawing upon LHSC's existing community of resilient transplant recipients, live donors and medical staff, authentic, powerful storytelling personified the cause. We selected and collaborated with six individuals who shared a connection to transplantation and interest in visual art.
Beautiful extreme close-ups of art creation and touching, personal voice-over narratives comprised a series of six short videos that showcased the journeys of transplant survivors and pioneers.
Feature videos were accompanied by striking photography and written stories that provided a deeper look into the lives of these individuals.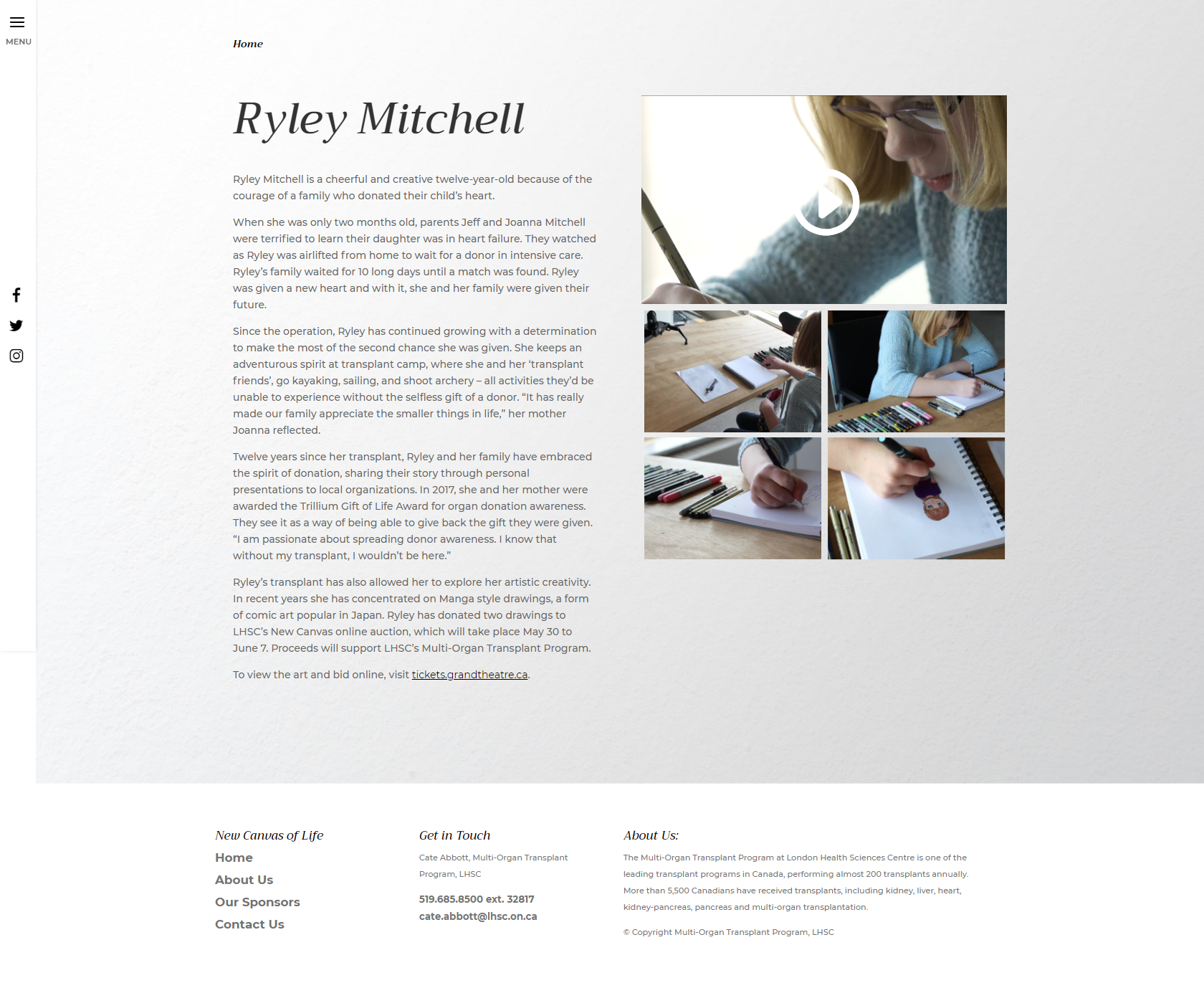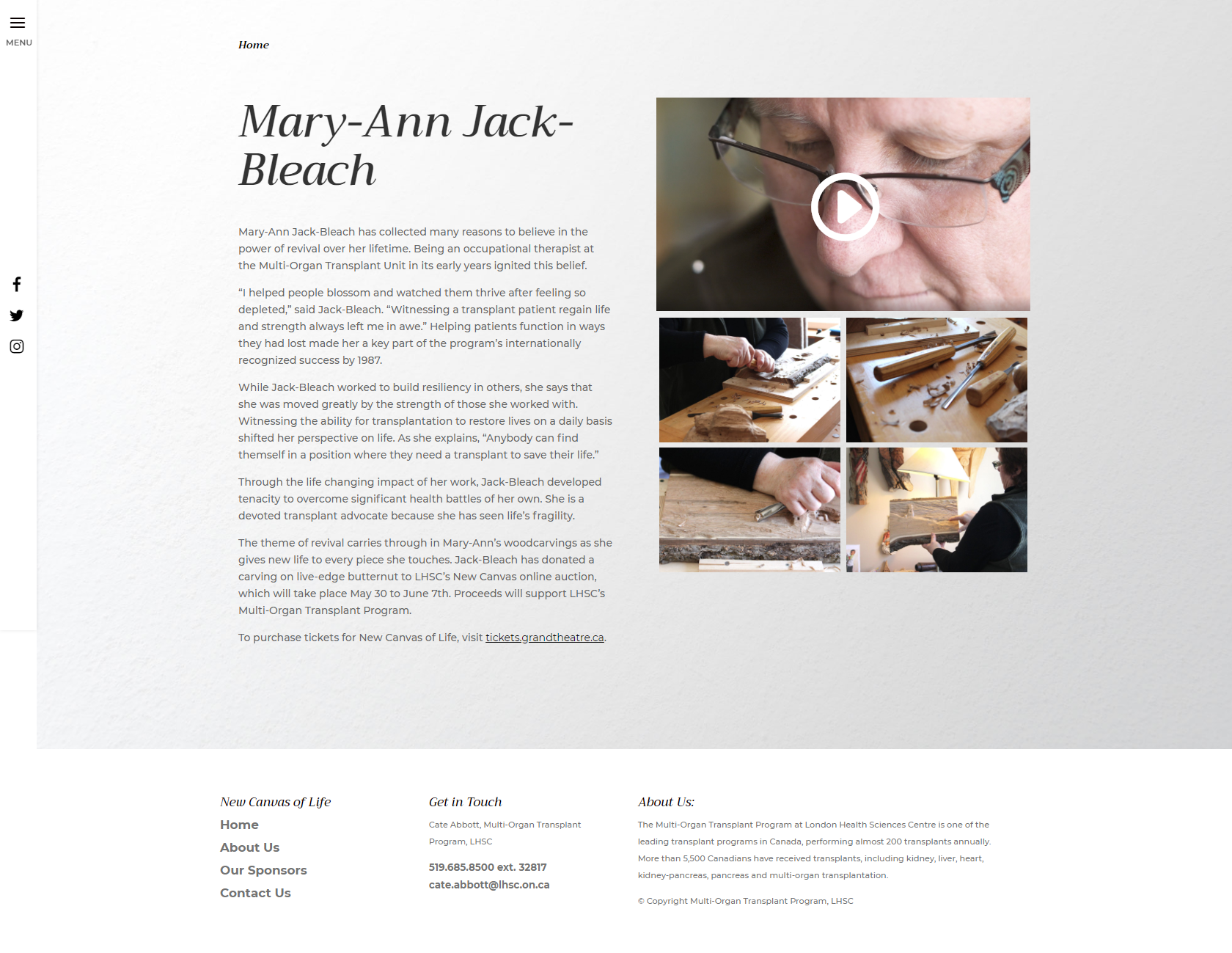 Online impact
Future-focused, we recognized the need to create a space for New Canvas of Life event information and the content we produced to exist year-round.
Housing event news, links to ticket purchase, artwork, captivating feature videos and the accompanying written stories, Lashbrook created a dynamic website that could be upheld as a New Canvas of Life landing space.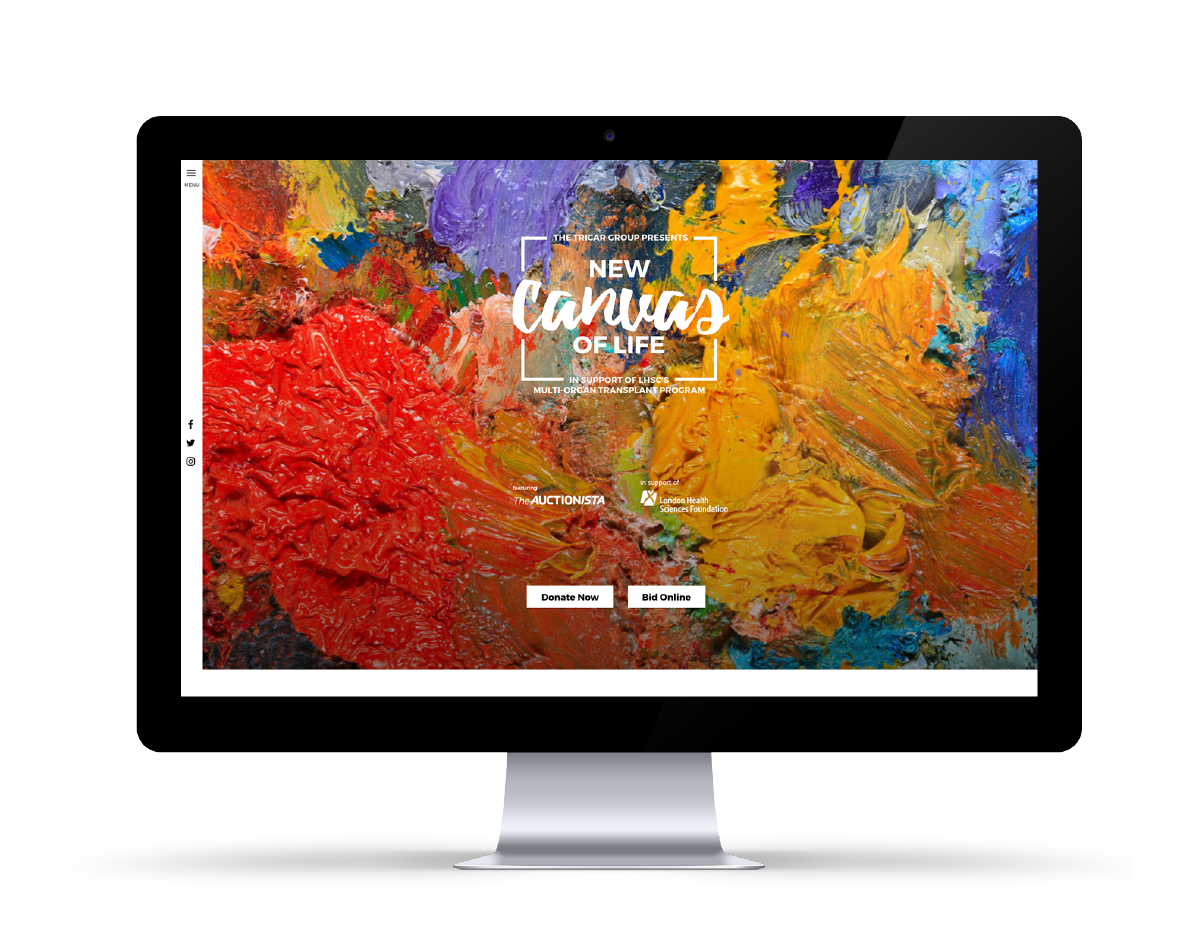 Our creative website content became strong assets for social media, sparking meaningful community engagement and igniting widespread awareness about New Canvas of Life and transplantation. In addition to website assets, live videos, auction artwork previews and curated content were shared on Facebook and Twitter leading up to the event.
Paid social posts, demographic targeting and click-to-website ads allowed us to tailor and boost the reach of the content we shared.
On the day of the event, we live tweeted, including timely calls to action that encouraged artwork bids and donations to the cause. In the following weeks, creative content recounted New Canvas of Life and maintained audience energy to bid and donate.
Establishing multiple touch points
While cultivating an online community for long-term support was a focus, generating a strong offline impact was also important. Postcards, posters, pop-up banners and a fence banner at a busy London intersection established multiple touch points for a strong New Canvas of Life presence across the city.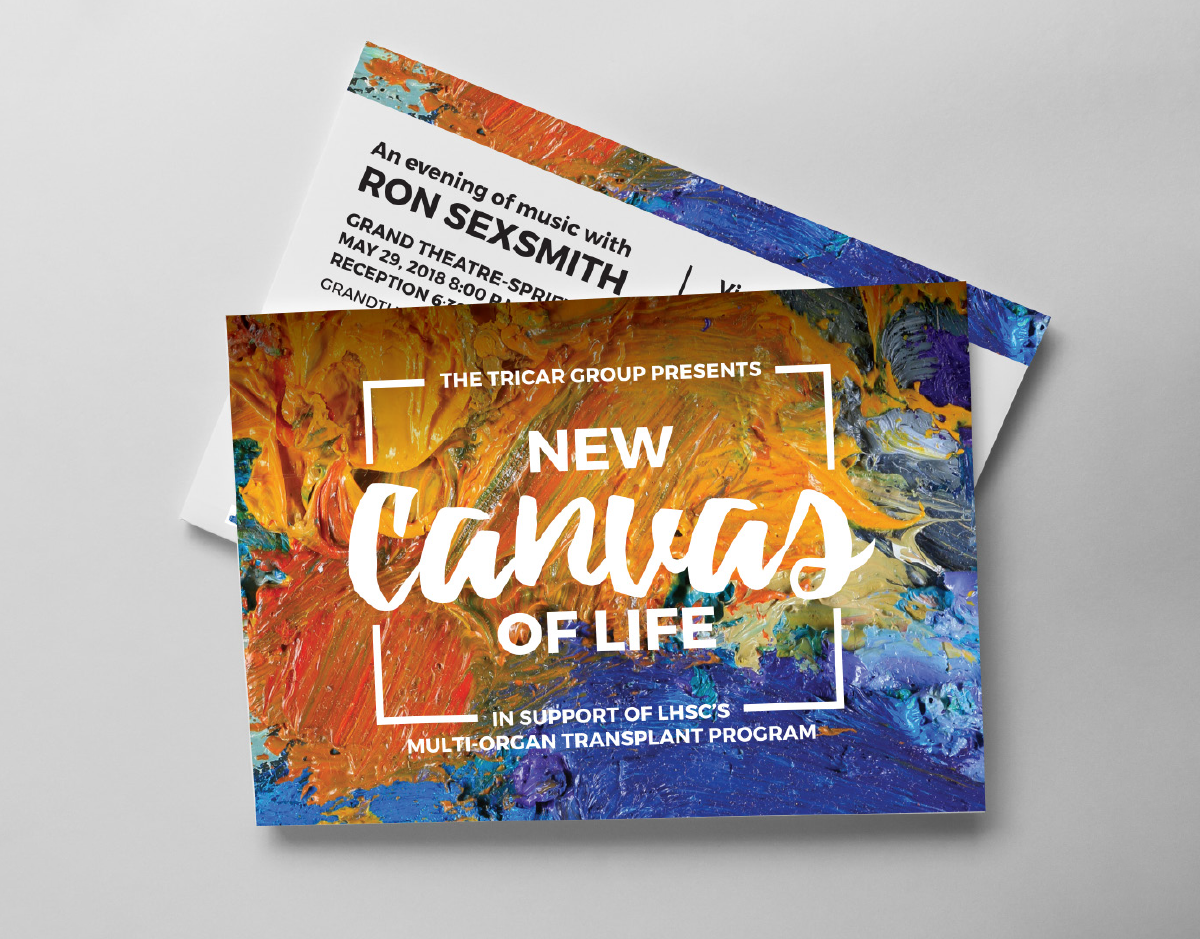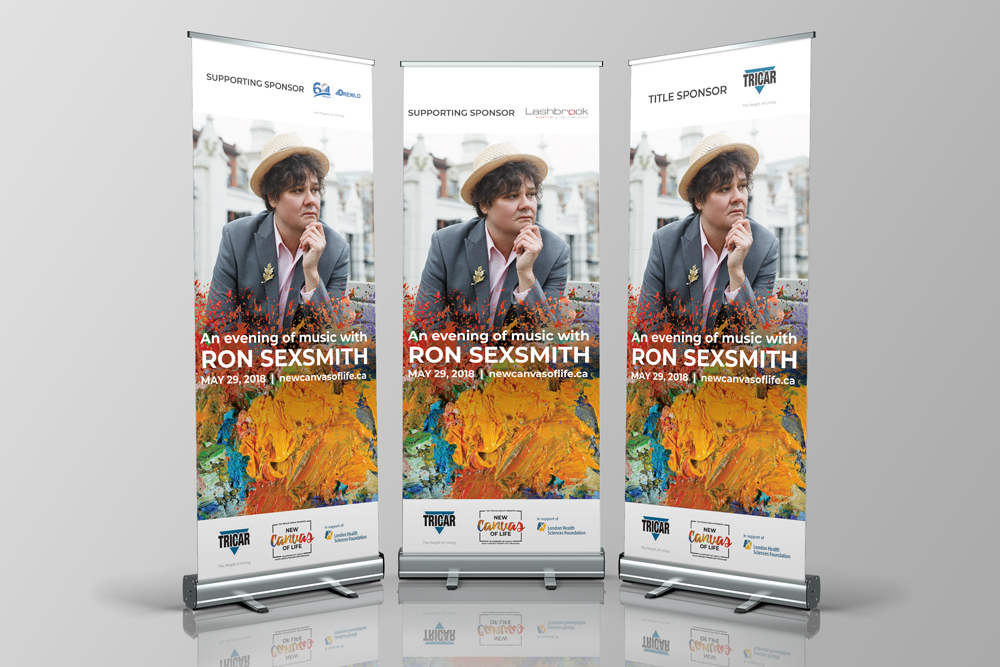 Empowering LHSC to leverage the media and the connections of those in their network, we provided tools, strategies and opportunities they needed to reach the right people.
The final results
With a strong focus on digital, an emphasis on arts and culture and an integration of authentic, powerful storytelling, we piqued the interest of new audiences and successfully positioned New Canvas of Life for long-term success: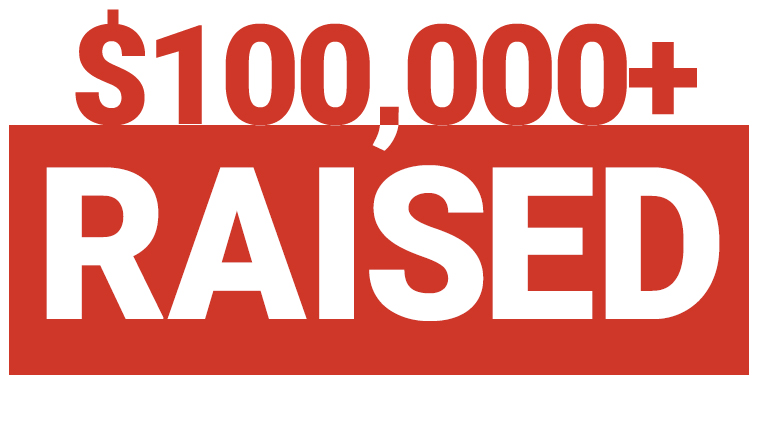 • Coverage in all major local media
• 33,615 people reached on Facebook
• Additional paid reach of 25,506 on Facebook
• 20,000 video views
• 16,884 post engagements
• 450 attendees at New Canvas of Life
• Lasting community, inspired to donate